SoftWave Therapy in Anchorage AK

Therapy using SoftWaves
SoftWave Therapy in Anchorage AK is a non-invasive treatment device that generates shock waves using a unique breakthrough technology. It provides sports and physical medicine with never-before-seen benefits. It effectively treats acute as well as chronic pain and improves recovery with long-lasting results. This isn't a step-by-step improvement; it's a complete transformation!
Softwave Therapy can help with:
Knee pain/arthritis/tears in the knees
Plantar Fasciitis/foot pain
Adhesive Capsulitis (Frozen Shoulder) /Shoulder Arthritis/Shoulder Tear/Shoulder Pain
Lumbar Arthritis/Lumbar Disc Problem/Lumbar Pain
Medial/Lateral Epicondylitis (Elbow Pain/Golfers Elbow/Tennis Elbow)
Carpal Tunnel Syndrome (CTS)/Wrist Pain/Hand Pain
Neck Pain/Cervical Arthritis/Cervical Pain
Tendonitis of the Achilles
Rheumatoid/Osteo/Psoriatic Arthritis
Neuropathy in the feet (diabetic or chemo related)
Tibial Stress Syndrome/Compartment Syndrome/Shin Splints
Jaw Pain/TMJD/TMD/TMJ/Temporo-Mandibular Syndrome
Hip Arthritis and Pain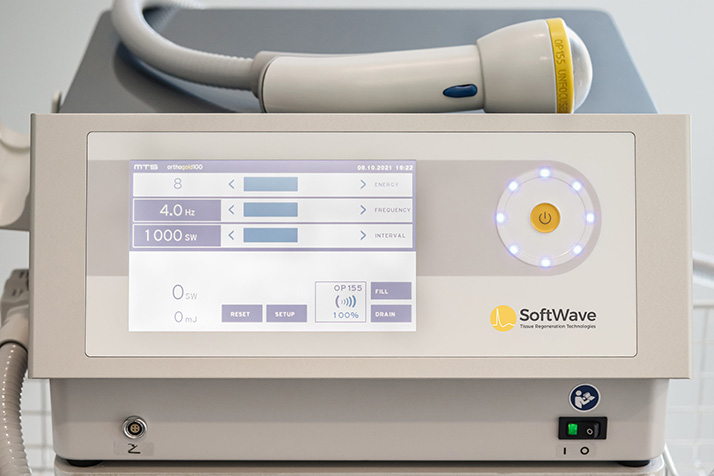 ---
The TRT OrthoGold 100 SoftWave is the only unfocused extracorpeal shockwave therapy (ESWT) device on the market, and it has been clinically verified to do the following:
Stops the inflammatory process at the treatment location right away. The results are usually instant and long-lasting pain alleviation as well as the relaxation of muscular adhesions and tightness. A common effect is an increase in range of motion.
Blood Flow Improvement that Lasts. Angio/vasculogenesis (the formation of new blood vessels) has been connected to the production of numerous immune factors and increased ATP at the treatment site.
TRT SoftWave has been scientifically proven to recruit and stimulate endogenous stem cell synthesis, allowing the body to begin mending from the inside out.
In addition to being utilized for treatment, this Softwave machine also includes diagnostic feedback in which the "origin of pain" can be precisely identified, serving an invaluable tool for proper treatment. This feedback mechanism allows us to know exactly where the problem is.
---
"You've Got to Feel It to Heal It," we say.
For a single joint injury, the initial protocol is usually 6 to 8 sessions.
The TRT SoftWave device's patented unfocused electro-hydraulic design provides unique and significant benefits for tissue healing and recovery:
It is completely non-traumatic to tissue and cells.
In certain cases, pain alleviation is almost immediate.
Improved blood flow with time.
Typically, just 6-8 applications are required.
Real-time biofeedback allows for precise application direction to trouble areas. No imaging is required.
Transformational vs. Incremental.
North America's only unfocused electrohydraulic ESWT America, and it has FDA 510(k) clearance.
---
Additionally, TRT/MTS SoftWave Therapy in Anchorage AK is…
Utilized by professional sports teams (Cleveland Indians, Brooklyn Nets, NY Giants, LA Lakers)
Utilized by top medical institutions (Cleveland Clinic, Mayo Clinic)
Top choice of many sports legends, active and retired
Has helped thousands heal and recover in record time.
---
SoftWave Therapy has the Science:
TRT SoftWave is unique in the industry for the quality and amount of peer-reviewed scientific material that validates mechanisms of action at the molecular and cellular levels. All "shock wave" devices are not made equal, and if you want to learn about a certain device, you need read the scientific research that applies to that device. Many "shock wave" distributors have studies on their websites that were not conducted using the gadget they sell but are portrayed as if they were. Only scientific research that used TRT/MTS devices are included on AcoustTek.
---
The Best Kept Secret in Professional Sports:
Professional sports' greatest kept secret! Sports Medicine Experts SoftWave has being covertly used by clinicians around the country on injured star athletes for years, with exceptional recovery times. SoftWave is now widely recognized as the profound advantage that makes a genuine difference in who plays on the field and who stays in rehab as success after success builds.
Monday
9:00am - 7:00pm

---
Tuesday
9:00am - 7:00pm
---
Wednesday
9:00am - 7:00pm
---
Thursday
9:00am - 7:00pm
---
Friday
9:00am - 7:00pm
---
Saturday
By Appt.